The primary objective of the Academy of Professional Celebrants is to offer exceptional celebrant training in the UK and Europe that is both inventive and affordable. With a track record of training and guiding over 600 professional celebrants, our institution is committed to upholding the utmost standards in celebrant training. We provide continuous mentorship and assistance even after the training is finished.
Upon graduation, students automatically become members of our membership and UK Network of Celebrants. This community is made up of knowledgeable, caring, and professional celebrants who are ready to offer advice and support. As a member, you will have access to exclusive benefits such as monthly professional development catch-ups and bi-monthly specialised workshops, providing a platform for continuous learning and development. You will also have access to a wide range of ceremonial resources and opportunities. Our comprehensive training, supportive community, and excellent resources will ensure that your celebrant business is set up for success from the very beginning.
The Academy of Professional Celebrants is committed to your growth and success as a celebrant. Benefit from the expertise and support of experienced celebrants, gain access to valuable resources, and embark on a rewarding journey in the world of Celebrancy.
---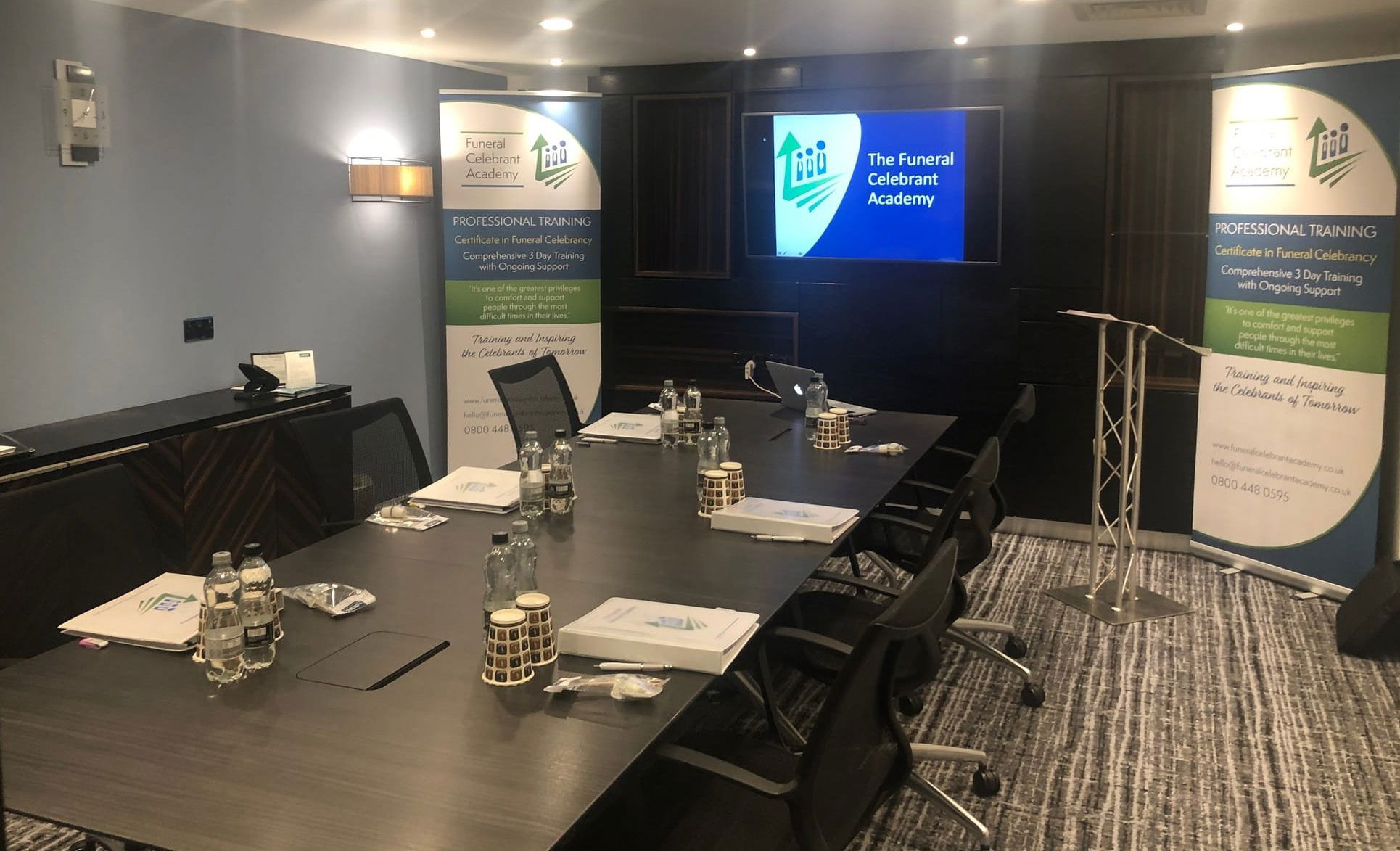 ---
HELPFUL INFORMATION BEFORE ENROLLING WITH US
We warmly welcome individuals from diverse backgrounds and experiences who are interested in pursuing this rewarding profession.
To fully participate in our training, we recommend having a good command of written and spoken English. Certain lessons may require access to a smartphone and a laptop. Having a basic understanding of social media will also be advantageous for maximising the benefits of our business marketing and promotion sessions.
We also invite you to explore our "Becoming a Celebrant" page, where we provide in-depth information on pursuing this vocation.
If you have any concerns about meeting the requirements, please don't hesitate to contact us.
---
EXCEL IN CELEBRANT TRAINING
Your success is our utmost priority. We genuinely care about our students and are committed to providing you with the necessary tools and knowledge to thrive in this profession. Our comprehensive training programs not only teach you the "how," "what," and "when" of being a celebrant but also equip you with all the resources needed to establish a successful business. We empower you with the skills required to be a modern celebrant, staying ahead of the curve in this ever-evolving industry.
EXPERIENCE A COURSE LIKE NO OTHER IN THE INDUSTRY WITH THE ACADEMY OF PROFESSIONAL CELEBRANTS
Our program is designed to provide you with the essential tools and knowledge to become a successful modern celebrant. What sets us apart is our unique blend of online, classroom based learning and personalised 1-2-1 tutoring. We understand that every student is unique, and our personalised approach ensures that you receive the attention and guidance you need to excel in this business.
COMPREHENSIVE CELEBRANT TRAINING
We leave no stone unturned in providing you with all the techniques and skills necessary to become the best celebrant you can be. Our comprehensive training program covers every aspect of the profession, ensuring that no essential knowledge or technique is left out. We believe in equipping our students with a well-rounded skill set that encompasses all the necessary tools for success. With our training, you can be confident that you are receiving the most comprehensive education available in the industry.
CELEBRANT SUPPORT
At APC, we are fully committed to standing behind each and every celebrant we train and qualify. We believe in your potential and are dedicated to providing unwavering support throughout your journey. Whether you need guidance, advice, or encouragement, we are here for you every step of the way. Our team is passionate about your success and will go above and beyond to ensure that you have the support you need to thrive in your celebrant career. With us, you can trust that you are not alone – we are 100% behind you.
DRIVEN FOR SUCCESS
We go beyond simply teaching you how to be a celebrant. We are driven to equip you with the knowledge and skills to run a successful business as well. Our comprehensive training program not only focuses on the art of being a celebrant but also delves into the intricacies of entrepreneurship. We understand that being a successful celebrant goes hand in hand with running a thriving business. That's why we provide you with the tools, strategies, and insights needed to establish and grow your own successful celebrant business. With our guidance, you will be empowered to navigate the business side of the industry and achieve the success you desire.
STAYING AHEAD IN THE MODERN CELEBRANT INDUSTRY
Our intensive and tailored training program is designed for aspiring celebrants who are determined to stay ahead of the curve in the modern celebrant industry. We understand that the industry is constantly evolving, and we are committed to providing you with the knowledge and skills needed to thrive in this dynamic landscape. Our program is carefully crafted to equip you with the latest trends, techniques, and strategies that will set you apart from the competition. With our training, you will be well-prepared to meet the demands of modern couples and create unforgettable ceremonies that reflect their unique vision. Stay ahead and make your mark in the modern celebrant industry with our comprehensive training.
RECOGNISED CERTIFICATION
Elevate your professional standing with the recognised certification from The Academy of Professional Celebrants. Our certification is highly regarded in the industry, giving you the edge over the competition. By completing our comprehensive training program and earning our certification, you demonstrate your commitment to excellence and your dedication to providing exceptional celebrant services. Our certification serves as a mark of distinction, showcasing your expertise and setting you apart as a trusted and highly qualified celebrant. With our prestigious certification, you can confidently attract clients and establish yourself as a leader in the field of celebrancy.
---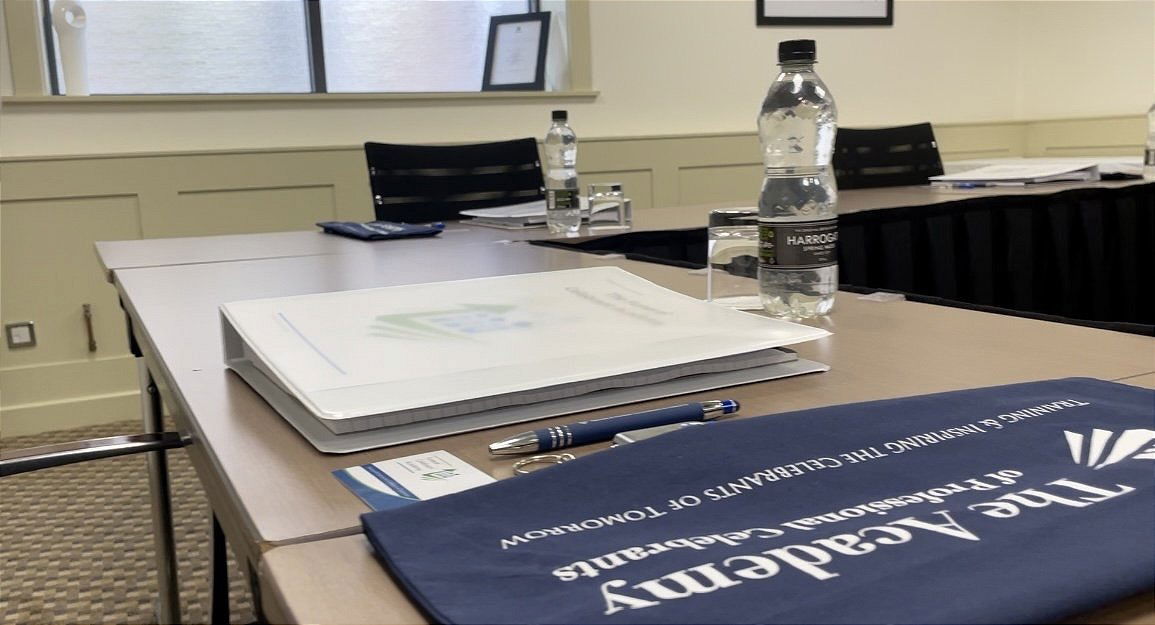 ---
We take great care in selecting our trainees, ensuring that they align with our celebrant values, ethos, and sense of fun. We believe that training should be reserved for individuals who possess exceptional personal and professional skills and experiences. We are not looking to train just anyone; we are seeking those who truly embody the qualities that make a great celebrant.
---
We're delighted be leading the celebrant community to new heights of student satisfaction, business sustainability, and personal business enjoyment.
---
We value sustainable business practices, outstanding ceremonies, and wellness for our celebrants.
---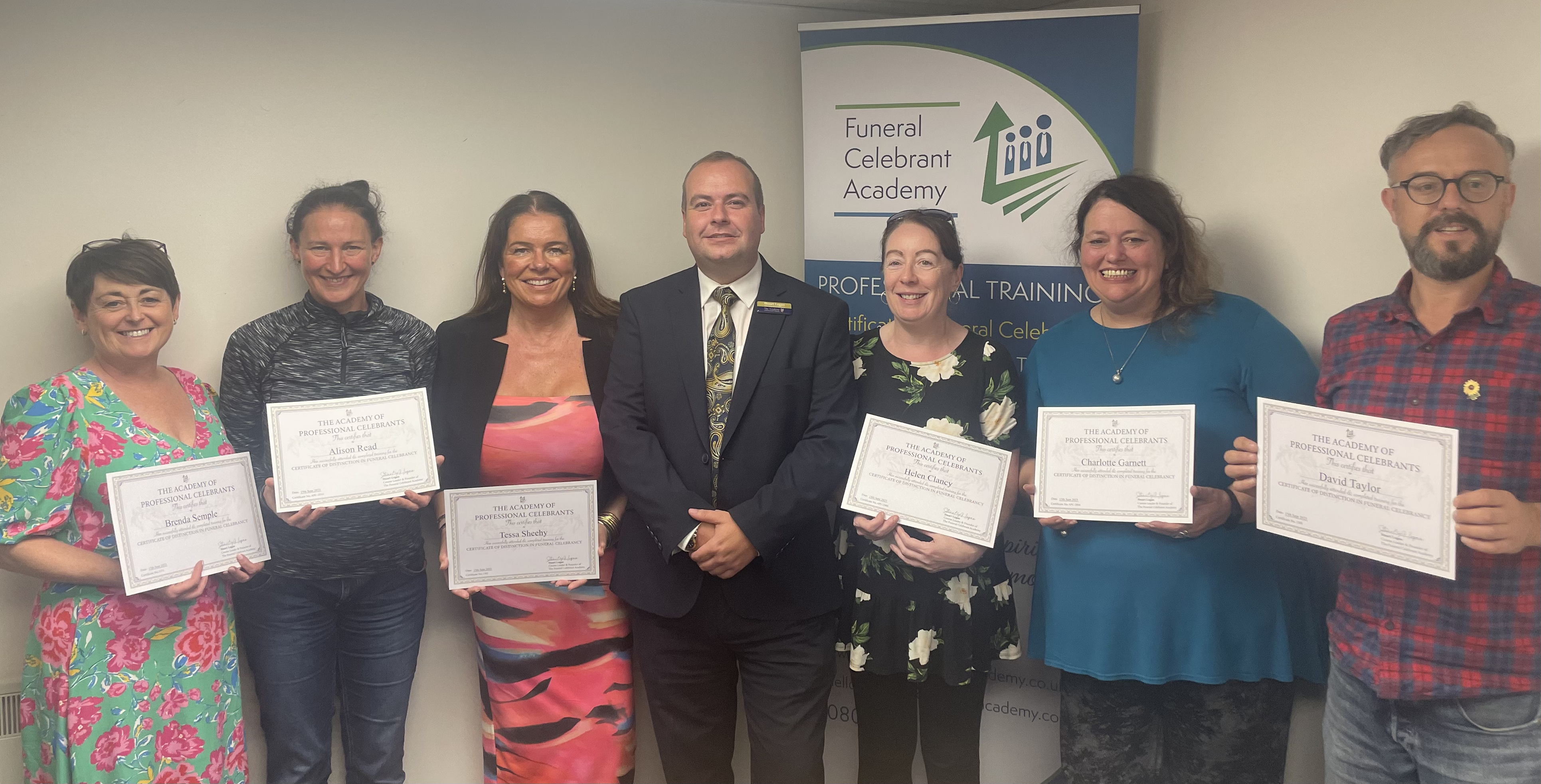 ---
"We hope to welcome you soon onto one of our Professional Celebrant Courses"
---

---
Click HERE to learn more about The Academy